Berat Öz (21), the eldest of two siblings and living with his family in Istanbul, found himself on the heart transplant waiting list due to heart failure that developed after the flu at the age of 19, while planning to study at university.
Berat's illness, which he thought was an easy upper respiratory infection, became worse after a while with symptoms such as nausea, shortness of breath, stomachache, and very weakness.
Heart functions dropped by as much as 15 percent
One night, Berat was taken to the emergency department of Koşuyolu Yüksek İhtisas Training and Research Hospital, where examinations were made.
It was understood that the young person's heart functions decreased by up to 15 percent.
He suddenly fainted
Berat, who was urgently placed on the heart transplant waiting list, was quickly fitted with an artificial heart device (LVAD) so that he could survive until the appropriate organ was removed.
One year later, when this device was also insufficient, the young man was taken to the heavy care unit this time and was connected to a second heart pump called an 'intraaortic balloon' in addition to the LVAD for a full 24 days.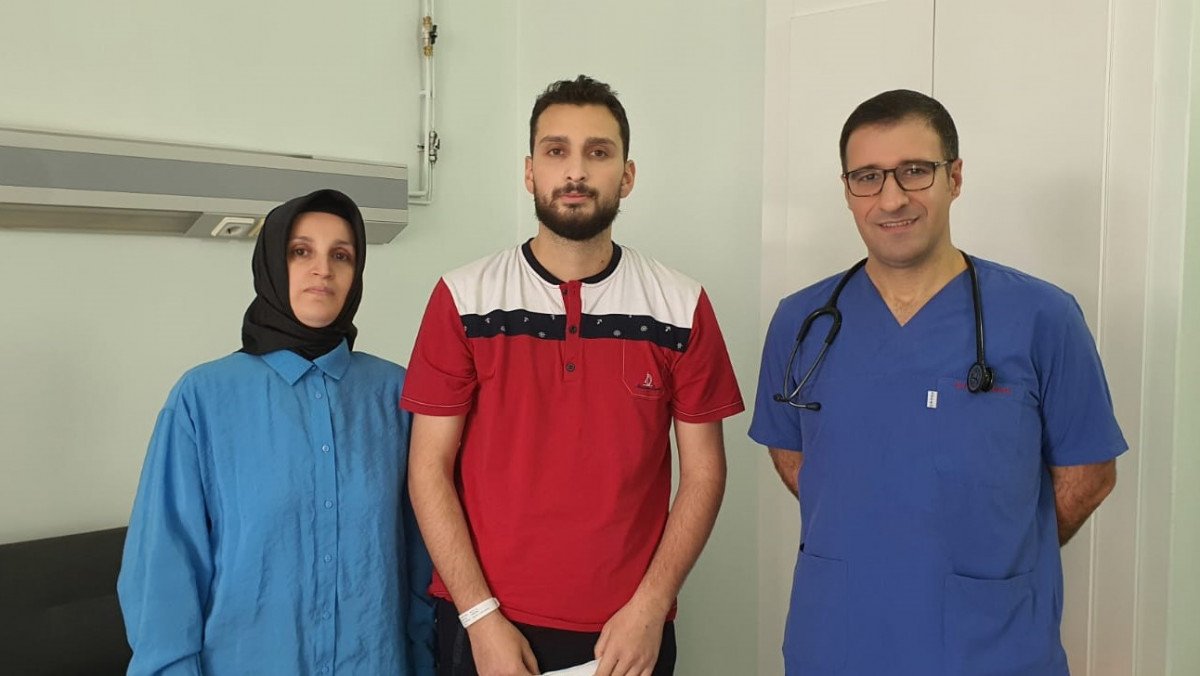 Hopeful news has arrived
Even though he is out of intensive care, Berat Öz's only chance to regain his health was still a heart transplant.
The news that gave hope to Berat, who spent 2 years in despair, coinciding with the pandemic period, when there was almost no organ donation, came on the phone that rang on the night of October 26.
second life
The heart of a young man the same age as himself, who lost his life in Beylikdüzü as a result of a cerebral hemorrhage, suited him.
The heart, which was immediately brought to Koşuyolu Yüksek İhtisas Training and Research Hospital in Kartal from Beylikdüzü by helicopter, was delivered to the Hospital Chief Physician and Cardiovascular Surgery Specialist Prof. Dr. He gave his second life to Berat with a successful operation carried out by Kaan Kırali and his team.
"In a normal, healthy individual…"
From the group that performed the operation, Kosuyolu High Specialization Training and Research Hospital Cardiovascular Surgery Specialist Dr. Hakan Hançer told DHA about the violent process.
Hançer said, "Berat's different situation was that he had a heart failure that developed suddenly. It was a heart failure that developed after a viral upper respiratory tract infection. Infection-related myocarditis and subsequent cardiomyopathy, that is, heart failure, developed. In a normal, healthy individual, the pumping power of the heart, which we call the ejection fraction (EF), is around 65 percent. In patients with end-stage heart failure, such as Berat, this cost drops to 15 percent.
"I should not say that I have fatigue"
In other words, there is a 4-fold reduction in the middle. This is not enough for the body. While the heart normally pumps 4-5 liters of blood per minute, it suddenly drops to 1 liter. This can lead to important pictures in the patient. That's why he said, 'A simple upper respiratory tract infection, I had a complaint for a week and then it went away. Now, depending on this, I guess I have resentment and weakness.
"Our organ donation numbers are very insufficient"
If these complaints are not neglected, if there are complaints such as shortness of breath and chest pain in general body condition, regardless of age, Berat's age was 19 when we put on that device, he is now 21 years old, a cardiology examination and echocardiographic evaluation should definitely be made. Those who do not have a risk cluster should have these examinations once a year, regardless of their age. We would like to always do heart transplants and heal these patients, but unfortunately, our organ donation numbers are very insufficient in that sense." said.
"My heart could not see its function"
Berat Öz, who suddenly found himself waiting for a new heart in a hospital when he had no health problems, said, "This disease occurred after a flu. I became unable to work, I could not even do the work that could make the slightest effort. I was diagnosed in November 2020, end-stage heart failure… I was told that I needed a heart transplant immediately. However, it was the time of the pandemic, organ donation was actually very inadequate. Many people die without being transplanted. They had to wear an artificial heart booster device. My heart could not see its function. After the device was put on, my doctors warned me not to go into the community because it was a pandemic period.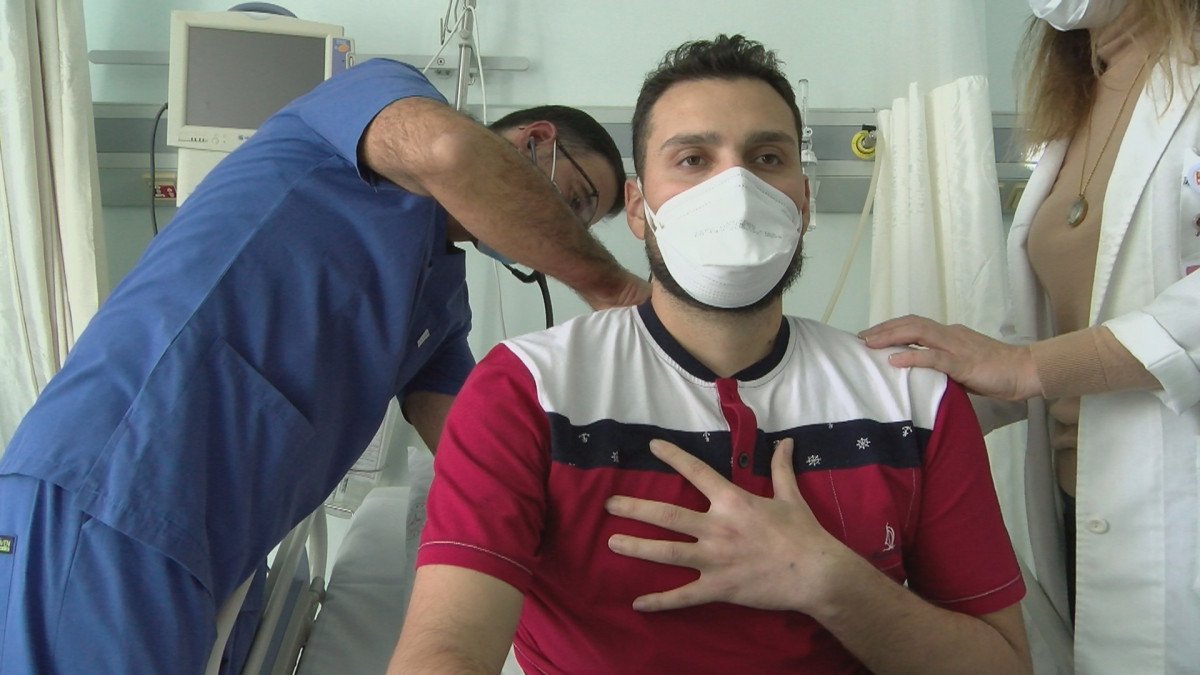 "People should not lose hope"
I remained other than my friends; I quit my business life, I couldn't go to university. After a while I got worse again. I also had fluid buildup in my lungs. I was admitted to intensive care. They put another heart booster pump on me while I was in ICU. I lay still for 20-25 days. When you see the people who died there, you lose hope too. However, people who are waiting for organs should not lose hope, because a suitable donor can come out unexpectedly. It really happened to me as well. We were surprised when our transplant coordinator, Miss Hasret Otçu, told us that the organ had come out. We rushed to the hospital." she spoke.
"Waiting was very difficult"
Berat Öz's mother Ayşe Öz noted that her son had no health problems until that age, and expressed his gratitude to the family of the donor who donated his organs, and said:
"We were shocked all of a sudden, it wasn't a severe flu, either. His complaints progressed, he had nausea, abdominal pain, and severe cough. We came to the hospital one night with these complaints. He was told he needed a heart transplant. The waiting process was also very difficult. There is nothing I can do, he is sad. I'm sad too. We were expecting a new life, frankly.
Thanks to the family who donated
He had given up hope now, he was sad that 'Mom won't come out to me'. God gave us a miracle. I put that young man who donated his organs in my son's place. Organ donation is really valuable. My son and my family have all donated our organs. In fact, my son said, 'Mother, if the heart does not suit me, let my other organs be a soul and a breath for another family'. A big thank you to the family who donated. May Allah give them patience and strength."