What is DHI Hair Transplant Technique?
The DHI Hair Transplant, also known as a direct hair implant, eliminates problems such as stitch marks or incision marks. The most important purpose of this application is to minimize the time the grafts (roots) taken with the micro motor taken from the posterior part stay outside and make them strong.
How is DHI Hair Transplant applied?
There is no incision in the DHI technique. Channel formation is performed more easily and professionally with fine-tipped needles. In this way, it is possible to place the grafts (roots) very tightly and continuously. As of 2019, DHI hair transplantation has come to the fore. This is because no incision is needed during the hair transplantation phase. Transplanted grafts do not have to wait outside. In faster conditions than other transplantation methods, the roots are placed in pens and transferred to the balding skin.
It can be applied to every person facing male pattern hair loss problems without any problem. It is the only transplantation method that can provide a natural appearance for hair and beard in empty areas.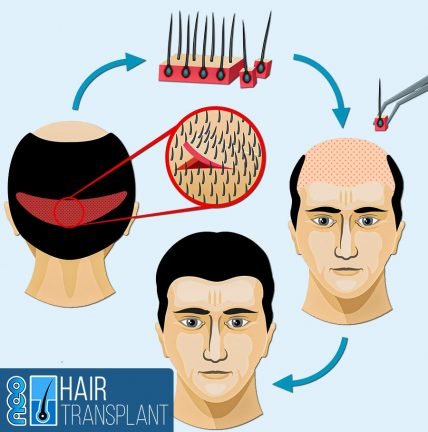 Advantages of DHI Hair Transplant Method
Hair transplantation can be performed faster and more frequently. It is also among the most important advantages that the intact hair follicles will not be damaged during the transplantation and the less waiting time in the outdoor environment. The retention rate of transplanted hair follicles is also higher than other methods. After the hair transplant treatment, the slightest scar or wound will not appear. It is one of the least damaged applications of the donor area.
The natural appearance is realized more strongly, and thanks to this application, it becomes possible to make a tighter planting.
Looking at the waiting period of the hair follicles, we can see that this process is less compared to other treatment methods, and this detail minimizes hair root loss.
The angle of the hair follicles can be determined more easily, thus obtaining a more natural appearance.
Transplanting directly to the relevant area with DHI hair transplantation is possible.
After transplantation, PRP is applied to everyone, but even after hair transplantation, success is strengthened with PRP procedures.
This process, which shortens the sowing time, is applied much more easily to the hair and beard areas.
Disadvantages of DHI Hair Transplant Method
DHI no-touch technique, one of the popular applications of the last period, can also be defined as direct hair transplantation without touching the living part of the root. The extraction of roots can be done manually or with the help of a device, and in this context, it is not different from other methods.
Since it is a new method, it is more expensive than other treatment methods. A good clinic should be preferred, otherwise, it is difficult to apply DHI hair transplantation. And the result may not be permanent.