Without shaving hair transplant possible
Is it a possible hair transplant without shaving?
With the FUE and DHI method, which are among the hair transplant methods developed today, it is possible to transplant hair without a haircut. With these methods, you can transplant your hair without cutting your hair, but you should consult your doctor which method is suitable for you.
Effective Hair Transplant Technique
How is Long Hair Transplant applied?
Unshaved hair transplantation in Turkey can be applied today with DHI and FUE methods. While applying only these two methods, the doctor makes the decision according to the type of hair loss of the patient. Whichever method will give better results, unshaven hair transplantation is performed with that method.
The number of grafts transplanted per session may vary and will be evaluated according to the patient. While it is possible to talk about 6000 grafts in the classical FUE method, it is difficult to pass 3500 in the long hair method. Anesthesia support is received in the clinical setting and a painless operation is observed.
The process is long as there will be a more detailed study in operations performed without hair cutting. An average of 3500 graft hair transplantation takes 6 hours, but unshaved hair transplantation can take 8 hours with the same graft.
It is possible to apply to both genders, but it is thought to be more appropriate to apply to women. It is also possible to obtain a more natural appearance with this method.
It is very important to transplant unshaved hair without losing the aesthetic appearance of women. For this reason, unshaved hair transplantation has been an ideal method for women who do not want to have their hair cut anymore.
As can be seen in the image, it may be appropriate for everyone to have unshaved hair transplantation without cutting your hair.
Some health problems and donor area are insufficient and it is not recommended for those who need a lot of grafts. Because the probability of hair transplantation without shaving can decrease up to 80%. However, this rate does not decrease below 90% with the shaved method.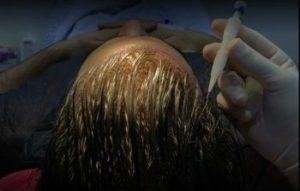 A dense hair image is obtained and a noticeable change occurs. Since there is no need for a haircut, patients can adapt to social life in a shorter time. It is not easy to detect hair transplantation from the outside.
Especially 3 days after the operation, the hair will look close to its natural appearance and will make you happy. Especially the hair transplanted with the DHI method provides very rapid recovery.
Hair transplantation, which is the biggest problem of women, is now done with this method without cutting their hair. Thus, it is extremely important for women who want to have a hair transplant.
What are the disadvantages?
It is not recommended for people with intense hair loss. Especially, it is not recommended for male patients who need more than 4000 grafts. This number is 5000 for women. Because the unshaved women hair transplant donor area is larger and more efficient. In men, this application is very suitable especially for 3500 grafts and under.
Long Hair Transplant Cost
Unshaved hair transplantation is usually performed using 2 methods together (FUE and DHI). Therefore, the method provides an extreme advantage to the person. However, it is a very laborious and professional hair transplant method for the doctor and the team. For this reason, the cost is on average 2200 Euros. The cost of your stay in Turkey, you and your interpreter transfers are included. Post-operative medicines, shampoos and vitamins are included in the price.
Main Questions Regarding Long Hair Transplant
Stay in Turkey
3 Days
Hospitalization
Outpatient
Duration
4 to 8 Hours
Anesthesia
Local
Recovery
3 to 5 Days
Scars
Non
Stitch Out
No Stitch
Pain
None to Slight
Results
Permanent 98% Success
Shaving
After 3 Months
Wash
After 15 Day